SUPPORT PUDUHEPA AND SISTERS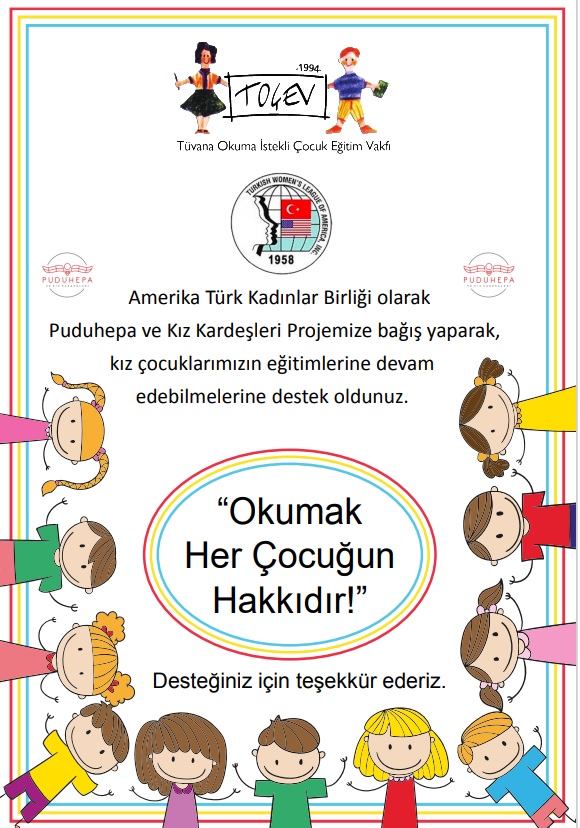 Turkish Women's League of America is proud to announce its support of TÖÇEV and Puduhepa and Sisters project to help educate the children of Turkey.
'Puduhepa and Sisters' is a social responsibility project to support young girls in all aspects of life; growing up, education, financial support and many more.
Puduhepa and Sisters dolls are produced by Ms. Renan Tan Tavukcuoglu and her group. The income received from the sale of the dolls is transferred to TÖÇEV to support the education of girls.
TÖÇEV provides financial and moral support to children, throughout their academic career, who do not have access to proper education or must maintain jobs due to the financial inadequacy of their families. TÖÇEV was found on the belief that: "Education is the right of every child." They accept every child as an individual and work tirelessly to educate each child to ensure that they become cultured, knowledgeable, harmonious, and productive members of society.
We invite you to help us to educate these deserving children by buying Puduhepa and Sisters dolls.
Thank you in advance.
Board of Directors of Turkish Women's League of America
Our main character, Puduhepa, is a Hittite Queen who has lived in Anatolia 3000 years ago and she has signed the very first peace treaty in history: Kadesh Treaty.
We have chosen this strong woman as our main shining star, a real super hero. We have many more woman super heroes from the fields of arts, science and sports. Those women will be joining Puduhepa one by one. Because we would like our girls growing up by reading real success stories. We want them to believe in their inner power and know that if they don't give up on their dreams, anything is possible!
The story of Puduhepa (taken from Puduhepa and Sisters webpage